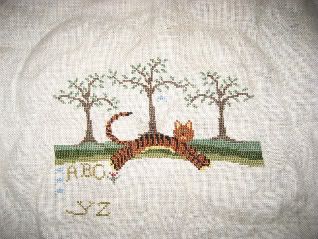 As promised, I'm including some actual cross stitch photos today. I love to see what other people are stitching, and I hope that you'll appreciate my stitching as well. I've often chosen projects by seeing other stitchers' work. There's lots of inspiration just seeing the actual stitched piece.
The first photo, Leaping Cat by La-D-Da, is my current work in progress. I'm stitching it with DMC on 32-count linen. This project is just for fun and it's something I'd like to frame and hang in our new house, er, the potential new house. (We're cautiously optimistic today.) This one's fun to stitch -- all whole stitches, no backstitching, pretty colors. And of course, it features a cute kitty, and he'll look much cuter once I stitch his whiskers.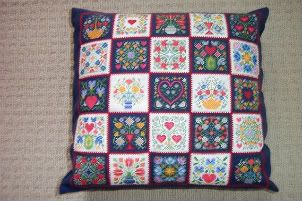 The pillow you see above is a chart called Square Dance from a New Stitches magazine published sometime in the mid-90's. This is probably one of my favorite things that I've stitched. I used 14-count navy blue Aida for the background and something called Aida Plus for the cream color squares. Basically I stitched the Aida Plus squares, cut them out and then attached them to the blue Aida by cross stitching them in red. Do they even make Aida Plus anymore? It's great stuff. I just haven't seen it in stores lately.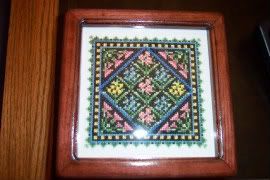 This is a box with a stitched piece in the lid called "Woodland Flowers" from the book Amish Quilts to Cross Stitch by Jeanette Crews Designs. If there's one thing I'm not, it's a quilter, but that doesn't stop me from thinking that quilts are beautiful. Quilters are true artists. So I figure that the next best thing is to cross stitch quilt blocks. This block is made up of a collection of wonderful colors with a black background, stitched on white evenweave. I purchased the box from a company called
Patches 'n Planks
which sells gorgeous handmade wood items. This box was made for a good friend for her birthday. I think I need one of these for me. OK, put that in the mental "To Be Stitched" file. Now THAT'S a post for another day!
I hope you like the samples of my stitching you see here. Maybe I've inspired someone? I'll be posting more photos in the future. And other stuff too. Stay tuned.
Cathy